I just got home from a five-week tour in Europe and finally have some time to do what I call research. The way I see it, being a touring musician is a bit like being a scientist: you spend a bunch of time in the lab, and you find something that you're excited about; then you have to go out and give a bunch of seminars to tell the world about it. But very soon you're itching to get back to the lab, because you want to discover the next thing. So here I am, at home and doing research, which for me, right now, in between practicing piano and writing tunes, means getting into a computer music programming environment called SuperCollider.
Yesterday I was fooling around with it and suddenly realized that with SuperCollider, I could do something I'd been wanting to do for years, which is to make a recording of rhythm becoming pitch, and back again. You see, rhythm and pitch are exactly the same thing, only at very different speeds. How's that, you ask? Well, let's start with the harmonic series:

The harmonic series is what you get when you take a string, on a guitar, say, and start dividing it up. So let's say you tune your string to a low C, the lowest note on the staff above. Then you divide it in two, so only half of the string is ringing. That note, as Pythagoras discovered a long time ago, sounds exactly an octave higher than the fundamental. Now you divide it in thirds, and you realize that that note is exactly an octave and a perfect fifth above the fundamental, a G. Now here's the interesting part: the octave vibrates at exactly twice the frequency of the fundamental, and the octave + fifth vibrates at 3 times the frequency of the fundamental. In other words, divide a string in 2 and it vibrates twice as fast; in 3 and it vibrates 3 times as fast. And so on through the harmonic series — I've written down the first 8 notes of it above. The major third (E 2 octaves above the fundamental), for example, shows up when you divide the string in 5 and it vibrates 5 times as fast as the fundamental.
How does this relate to rhythm? Let's think about the interval of an octave. If we play a low C and the C an octave above that at the same time, we'll have one note vibrating at one frequency and the other vibrating 2 times as fast. If you looked at the sound waves next to each other, they would look like this:

Now consider just the crests of each wave, the moment where they reach their maximum. In the time between two crests of the bottom wave (the fundamental), the top one (the octave) crests twice. If we were to write this out in rhythmic notation, it would look like this:
That's a very simple rhythm: 2 for 1. Any child can tap it on her knees. But did you know that if you sped a recording of her tapping this rhythm on her knees up about a hundred times, you would actually hear two pitches an octave apart? Don't take my word for it, check it out:
;
Pretty amazing, right? For most of us, this will be the first time we'll have consciously witnessed rhythm turning into pitch, then turning back to rhythm. At the beginning, you can hear the "fundamental" in the left channel clicking away, and the "octave" in the right channel clicking twice as fast (2 clicks for every one in the left channel). Then, as it speeds up, there's a period where you can't really hear rhythm — the clicks start to blur into each other. Then something magical happens — you start to perceive pitch, first as a very low note, then as it speeds up, as a higher and higher note. Then the octave below starts to emerge as well. By the time we reach the highest point, the two notes are clear, the fundamental in the left channel and the octave in the right.
Why does this work? Well, it turns out that we have two systems for perceiving music. For slow things, our consciousness distinguishes individual events and interprets them as what we call "rhythm", such as the child tapping on her knees. For very fast things (like when the taps get very close together), our consciousness isn't fast enough to distinguish the individual events, and our pitch hearing kicks in, guided by those tiny hairs in our cochlea, each one specialized in resonating at a certain pitch.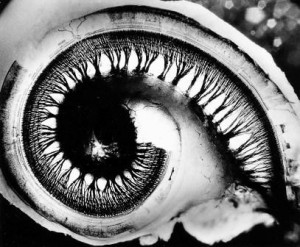 That is, when rhythm is very fast, we hear it as pitch. In the same way that we can say one song is "faster" than another (and we could measure that difference in BPM), we can also say that one pitch is "higher" than another (and we could measure that difference as a musical interval). The thing that some people may not realize is that when we're making those comparisons, we're talking about the very same thing: a "high" pitch could also be called a "fast" pitch.
So here's where it gets interesting. We just heard what an octave sounds like. That's a very simple rhythm. How about a fifth? If you look back at the harmonic series diagram, you'll see that if we want to listen to a perfect fifth (the first G from the bottom against the C right below it), we should be listening to two tones that vibrate in a 3 to 2 relationship — that is, the upper one vibrates 3 times in the time it takes the bottom one to vibrate twice:

Looking at the crests of the waves in musical notation gives us:
That's a slightly more complicated rhythm, but kids can still do it with a little practice. Now hear it become pitch:
;
Again, I find the transition between our two systems of hearing fascinating — it's as if you could see slow flashes of light speed up and gradually morph into a color (is that feasible? Not as far as I can tell). And it only gets more interesting as the rhythms get more complex. A perfect fourth is a 4 to 3 relationship,
and sounds like this:
;
My favorite is the major third, a 5 to 4 relationship that is an awesome rhythm (I use it all the time in my music) and also happens to be a lovely interval. Would you have guessed that such a consonant interval would have such a thorny rhythm behind it? Next time you tap it out on your knees, try to get your mind around the idea that you're playing a really slow major third.
;
The minor third is great, too — a 6 to 5 relationship
that sounds like this:
;
* * *
We could go on with these intervals — the major sixth, for example, a 5 to 3 relationship, is particularly nice — but what I really wanted to know as I experimented with this last night was: what does a triad sound like, rhythmically? Well here it is. Let's look at a major triad first, which as you can easily figure out from the harmonic series diagram, is a 6 to 5 to 4 relationship:
This isn't a rhythm that you're going to hear a kid tapping out, but a good drummer could work it up relatively quickly. The difficulty is in the way it mixes ternary (triplet) and binary divisions of the beat. Still, it's pretty catchy. Here I've put the lowest note in the middle, the third in the left speaker, and the fifth in the right:
;
Pretty crazy, right? How an honest-to-goodness major triad could emerge out of that clicky mess? Now we're left with the minor triad. Interestingly, even though we often think of a minor triad as a more complex sound than a major one (or at least, sadder) it's a simpler rhythm in that it's entirely made up of ternary divisions of the beat. But it also takes longer to resolve. So you could say it's more in phase with itself, but also more ponderous; less cognitive dissonance, perhaps, but more internal debate.
It sounds like so:
;
If you're wondering how I got those ratios (15 to 12 to 10), it's like this: take the minor third from the harmonic series, between the E and G in the first diagram above. That's a 6 to 5 relationship. Now we need the fifth, which we can get by multiplying the root note (the E) by 3/2, giving us 7.5. Now multiply all 3 numbers by 2 so that we can be dealing with whole numbers, and voilà: 15/12/10.
* * *
One last thing. The waves I've drawn for you here are sine waves, but if you know anything about sine waves, you'll quickly realize that the sounds you're hearing on these recordings, even when things are going very fast and you're hearing clear pitches, aren't sine waves. The clicks that you hear at the beginning and end of the tracks are what are called impulses, basically the quickest move the speaker can make. The wave for an impulse looks like this:

These sound like clicks when you hear them individually. But when they get very close together,

we stop hearing the clicking and instead, we hear the same pitch that we would hear if each impulse were the crest of a sine wave. Our ear can clearly tell the difference, though, by the timbre of the sound: the pitches made of impulses are aggressive and tinny to the ear, whereas ones made of sine waves are pleasant and full:
The difference in timbre is huge. Our sense of pitch, however, is activated just the same.
* * *
One very last bonus track: remember the major sixth I talked about earlier, the 5 to 3 relationship? That's such a nice rhythm (my friend Gabriel Kahane, for one, uses it throughout his song Durrants) that I'll give it to you here
in all its transformative glory: